Today post is about a fact that the 2 products: Milk of Magnesia and Monistat Chafing Rellief Powder-Gel have been using widely as a face primer. Also, how do they work compared to other popular primers (Benefit and bareMinerals)?
WARNING
: These two products
are not originally manufactured for uses on face
! After reading/watching many reviews, I decided to try them out at
my own risk
to help my combination skin endure the heat of summer. If you don't want to take the risk, please don't try them. If you're still curious how these two products turned out on my skin, continue to read ...
1. Phillips Milk of Magnesia (Original):
What is it? - A drinkable digestive health support that provides relief from occasional constipation and gets you back to regular. It uses magnesium, which works with your body's natural process, to relieve constipation. You get cramp-free, gentle relief without harsh stimulants.
Where to buy? - You can
buy it from Walmart
for $4.
How did it work on me as a face primer? - I don't like it. It's not hard to apply but when it dries, there's a white residue on my skin so I have to rub it off. Well, it's a little annoying to me. The thing is after going through that application, I don't feel that there's an improvement regarding how much my skin gets oily nor the time my makeup staying on. Maybe it works for others, just not for me.
2. Monistat Chafing Relief Powder-Gel:
What is it? - A gel that provides on-the-go daily prevention and relief from chafing and skin irritation in intimate, delicate areas, such as the inner thigh, bikini area, underarms and chest. Made especially for women, the exclusive powder-gel formula combines the protective benefits of lotion and powder by forming a silky, breathable moisture control barrier to prevent friction. =>> It makes more sense to use this product as a primer since the purpose of a primer is also to control oil/moisture.
Where to buy? - You can also
buy it from Walmart
for $6.
How did it work on me as a face primer? - This product works on my combination skin. It does provide a smooth canvas ready for the next makeup steps and the oil is controlled better than when I don't have a primer on. The matte effect doesn't stay the whole day though; maybe up to X hours in the Summer. Many people said it worked just as well as
Smashbox's Photo Fisnish Primer
; I'm not sure because I haven't used Smashbox's primer before but from what I saw in the comparison photos, they're both silicon gel!
3. Benefit's the Porefessional and That Gal:
Got these products as samples and I'm glad I tried them and decided not to buy. They are just average primer to me. That Gal has a pink color while the Porefessional is beige; however, the color is not visible after the products are blended. The Porefessional is very thick but That Gal is thin. I feel that the Porefessional is smoother than That Gal which feels more like an oil-free moisturizer than a primer. Both of them don't keep my face from getting shiny very long.
4. BareMinerals Prime Time: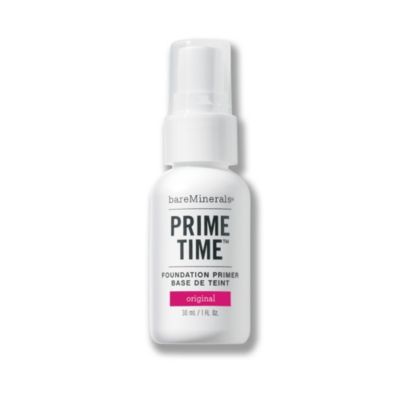 Another silicon gel, it is thinner than the Monistat powder-gel. Prime Time makes my skin smooth to help applying foundation more evenly but the shine is still there. If you're looking for a primer that instantly eliminates the shine and mattifies your skin, this primer is not for you as it's not for me. However, I think it is made for bareMinerals' powder foundation so it makes sense for the primer to be a little more greasy than others. People with dry skin might love it.
Top: Monistat Chafing Relief Powder-Gel.
Bottom, Left to Right: That Gal, the Porefessional, Prime Time
Above is a comparison of the mentioned 4 face primers. The one I like the most out of those products is the Monistat powder-gel, although it's not advertised as a face primer. For $6, it is a great product! However, I'm still looking for another one that is as smooth as (if not smoother) but lasts longer than the powder-gel.