Hello everyone,
As you know I am a huge fan of the brand 3 Concept Eyes (3CE) by Style Nanda just for their lipsticks - I find myself not be able to use lipsticks from any other brands! It is so unfair because while the reviews for 3CE are so limited, many of them are based on the fake ones. There are fake products of other brands out there too but I feel that consumers are less aware of the brand 3CE and how the authentic products look. As a result, they tend to post reviews without stating that the products they're reviewing are not authentic.
I bought a fake 3CE lipstick to compare with the real ones. Just like the one bought by a blogger
(who argued she bought it not just for the brand and thought it was worth the price)
, the fake one I have is pretty creamy and pigmented (of course not as long lasting and dries out my lips like crazy!). However, if you don't want to spend $20 on a lipstick, you would rather go to a drugstore and buy a drugstore-brand lipstick because
you don't know what is in a fake lipstick!
First, I want to list the places where I know you can get the AUTHENTIC 3CE with worldwide shipping:
1. (Korea) 3CE official website by Style Nanda - http://en.stylenanda.com/
2. (Korea) http://honestskin.com/
3. (US) Urban Outfitters: online only, limited number of 3CE products.
4. (US) http://www.imomoko.com/
5. (Hongkong) http://www.eyecandys.com/
6. (Korea) roseroseshop.com
7. http://www.yesstyle.com/
Red flags:
1.
Packaging.
Please check the orginal website before you buy. I know those companies making fake makeup always change their packaging to match the real products, but Style Nanda also fights back by changing packaging too!
2.
Way too cheap
compared to products on the original website.
3. Products that have
never been sold
on the original website.
Below are some 3CE products on Ebay that just scream out FAKE!
They call this "Jumbo Lip Crayon", obviously these are not crayons lol! 3CE doesn't have this type of packaging for their lip gloss anyway.
Real 3CE Eyebrow Mascara has solid black packaging.
Real 3CE doesn't havethis packaging for their liquid eyeliner.
Real 3CE has different packaging for their bb cream which has the word "Back to Baby" on it.
I've seen many bloggers buying this set. Ladies, real 3CE doesn't have any set of lip glosses!
There's nothing that looks like this on 3CE website
These lipsticks' packaging looks like NYX lipsticks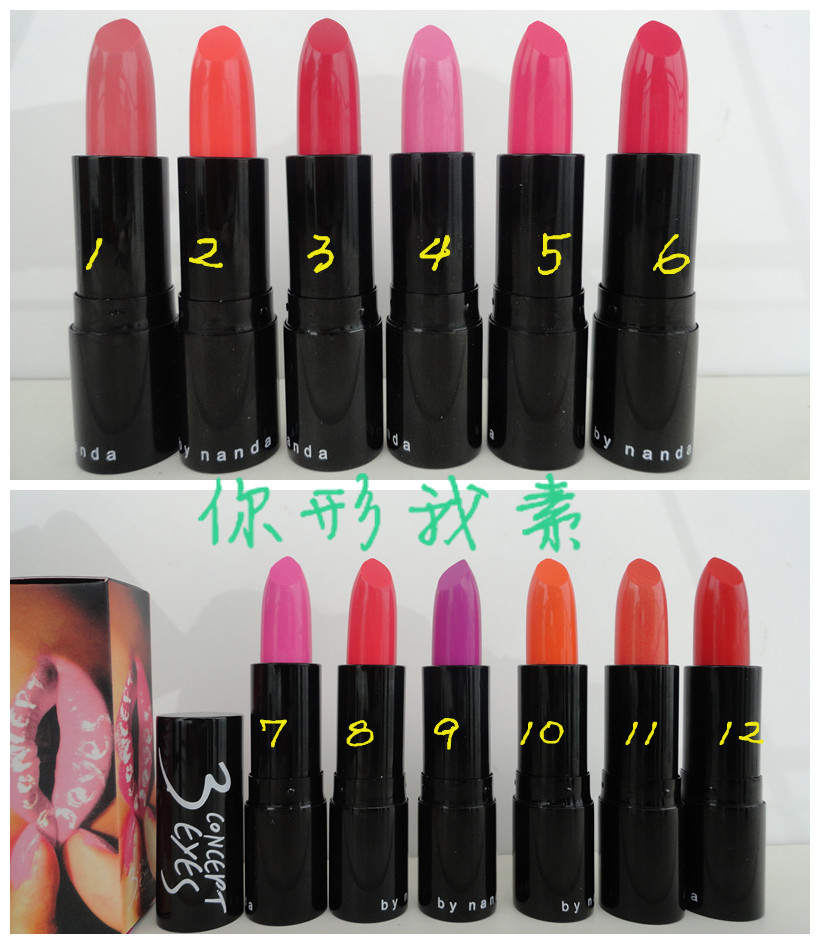 Those with round packaging have been sold by many stores, not just Ebay so be aware!
I came across a very helpful blog post by
Suzanne
on her
Blooming Dreamer
blog, showing some ways to avoid fake 3CE products. I'm going to show her post here but you can click the title to go straight to her post. Thank you Suzanne!
Update: Suzanne mentioned that 3CE jumbo lip crayons never came with the twist-up form. However, Style Nanda has just released the new packaging for these crayons in twist-up form.
___________________________________________________________
"3CE or 3 Concept Eyes is a Korean cosmetic line created by Style Nanda.
It widely known because of Style Nanda's quirky fashion and many Kpop stars sporting the brand. Also, its gorgeous face of the brand Park Sora
Because of its expanding fame in Asia ,there has been reported knock offs of the 3CE around.
The original 3 Concept Eyes items can be bought from their official website. Right here : http://en.stylenanda.com/products/3-concept-eyes/AS000000/?url=Category
Comparing to roadshop brands such as Etude House, Holika Holika, Missha etc.
3 Concept Eyes products stands on the mid-range pricing line.
Knock offs are usually sold at a very cheap price. When the deal is too good to be true, there's a high chance that the product is a knock off. Do do some research on the pricing of 3CE items before buying them off the any site which isn't the Style Nanda website.
These are examples of knock offs.
Style Nanda has never released a BB Balm before.
If I am not mistaken 3 Concept Eyes has never released BB Creams before.
3CE has never released jumbo eyeshadow pencils before.
This looks like the exactly like the original which can be deceiving.
The original comes with only 7 colours and the name of the colour will be printed at the back.
For the fakes all colours will be # Modern White and the colours will be named as 1,2,3,4,5,6,7,8.
The fake will also come with a lip brush and the original doesn't.
Some of the lip color knock offs are deceiving some screams 'fake'.
Anyway the one in this picture are the deceiving ones. The lipsticks are called 3CE lip color.
The lip colors should come with color code and name such as #402 Puchsia
They do not come in codes like 1,2,3,4,5,6,7 etc.
3CE Jumbo Lip Crayon do not come in auto-twist up form.
The lip tint is named 3CE Apple tint.
It only comes with two colours. Pink and Orange. No more.
There are more knock offs out there but i will post this much.
To keep yourself from buying the knock offs, please do research on Style Nanda website on the products before buying on Ebay or other web sellers.
It is better to buy from the Style Nanda site itself."